Route: Bangalore- Hoskote-Chintamani- Madanpalle-Horsley Hills
Saturday afternoon saw us riding through
Hoskote
to
Horsley Hills
in
Andhra Pradesh
. It was a hot afternoon and after a hurried packing and fitting in things we were later than usual and met a couple of the riders, Pravin Prakash(PP), Muthu, Sam and Jose who were waiting somewhere in Old Madras Road. The plan was to ride to Punnami Resorts in Horlsey Hills for the Madras Bulls Anniversary celebrations. We were looking forward to meeting the gang and this time there would be a huge party and there were plans to have lot of fun. Some of the guys had already reached the place since they started in the morning. We were the last batch to go there but since the place was just 150 kms from Bangalore, we would reach the place bbefore sundown.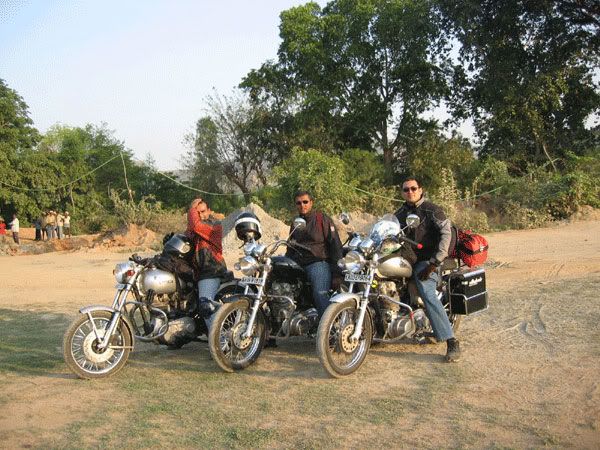 We took a left from Hoskote and after some
60
odd kms we reached the small town of
Chintamani
. We took a break here to have some tea. We were used to travelling for longer distance and we took it easy since the place was near. Muthu's horn was giving some problem. Seems like there was some loose connection somewhere. After fiddling with it for some time, we decided to carry on to
Madanpalle
which was going to be our next stop. It was evening and the light was good. We stopped on our way to click some pictures. The roads were bumpy and cracked in between and had some diversions which made for some jerky riding and slowed down the pace but it was ok since there was not much traffic and we could do some good time. On the way we saw some monkeys disregarding the incoming vehicles and feasting on some melons which had fallen off from a truck.Monkeys being monkeys did not bother aboutn being razed to the ground by the buses that were plying on the road. They were more interested getting their share of the melons. We slowed down to swerve between the feasting monkeys and then continued.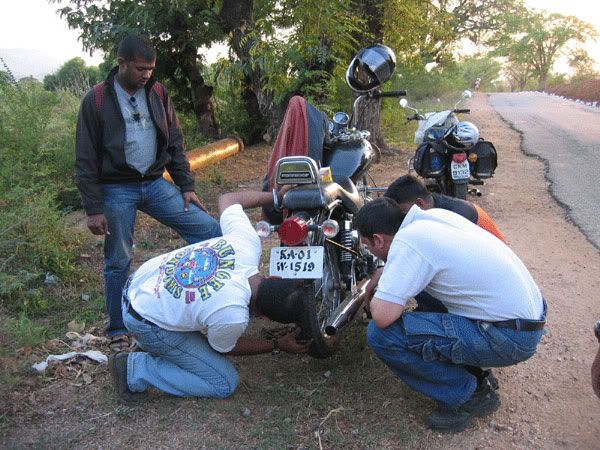 We were some 10 odd kms from
Madanpalle
town when Jose suddenly stopped the bike. His chain link had been cut. Muthu did not see us stop so he carried on. Sam, PP and ourselves stopped to see what was wrong. It took some time but the problem was fixed.While they were fixing the chain, I took the opportunity to take some pictures. The sun was setting and it made a different but beautiful picture on the horizon. Scenes like that make it worth the while of travelling the miles.
After fixing the bike we made our way to
Madanpalle
a bustling town in
Andhra
Pradesh
. Muthu was waiting for us there and he had also got his horn fixed there.
Horsley Hills
was some
26 kms
from there. The landscape was rocky scattered with eucalyptus trees and trees sporting red flowers. The sun had set and there was little light and we climbed up the bends without much difficulty and reached the resort. As we reached the resort we saw two bikes heading back. It was Vipin and Vijayraghavan.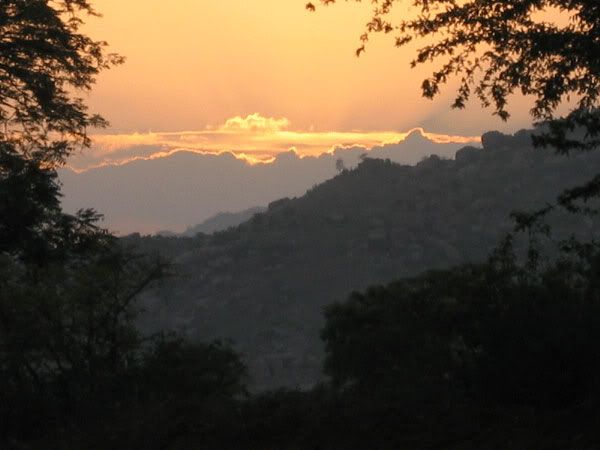 We saw a huge number of bikes lined up and it almost another Rider Mania. There were more than 70 bikes in all. It seemed that the
RTMC
members outnumbered the
Madras Bulls
. It was a pleasure to connect with the Hyderabad
Wanderers
who came to be a part of the celebrations all the way from
Hyderabad
. The place was rocking and the party was about to begin. We registered ourselves and took a room. Due to last minute entries, there were dearth of rooms and we had to share it among ourselves. The rooms were big amd comfortable and sharing would not be a problem. The party started with cutting of a sinfully sweet cake which we all feasted on. As I said hello to the guys and the girls, I spotted this deer who was walking around sniffing the food stuff that was in the floor.I could not resist saying hello to this curious beautiful eyed spotted animal who wanted to join in the party. He had a broken horn and he was tamed to roam the premises.It was unique to have the compan of someone who you would expect to be roaming in the wild. It was more interested in sniffing the liquor bottles than in the food. I guess it was experienced with the taste of the liquid. I did not waste time making friends with this quiet shy but frisky animal. Took some snaps and saw it roaming the grounds at its own leisure.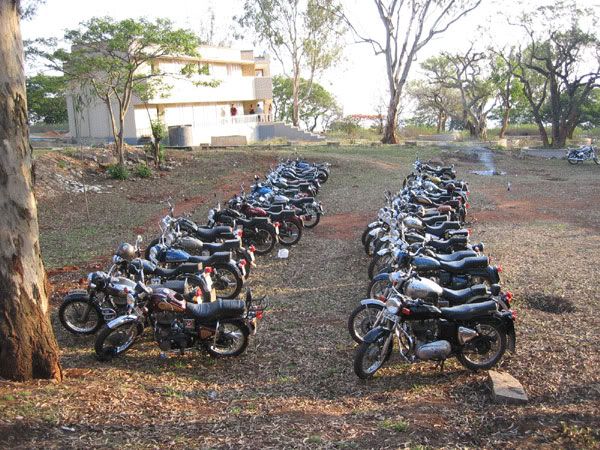 People started hitting the dance floor and one could see many variations of dances. Mani was the star of the show with his lungi dance. He kept giving the crowd a peep show every now and then... ( LOL). The famous Tamil song had everybody jumping in delight and hitting the floor har. Amber was high on spirits and was talking of bashing anyone who diid not do what he said. He was cursing Sameer in his drunken stupor who was trying to figure out the songs and fix the stereo. Sameer after sometime got fed up and went and picked him up and gave him a good shake putting him upside down. It was all a game and I got some good shots in that process. RTMC gifted Madras bulls with a pouch which would carry all the necessary papers along with money and stuff while riding.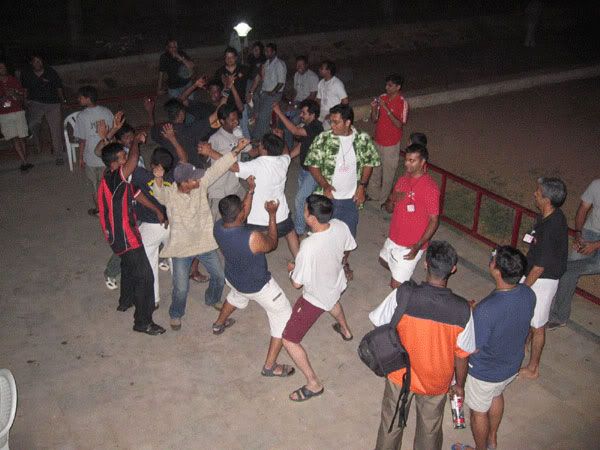 I personally had downed three pegs of vodka and my small headache was starting to bowl me over. I turned in temporarily to relax planning to come back when the campire would be on. My head was feeling like thousands of soldiers were hammering me with their pins and I was dying to just bury my head somewhere peaceful. After sometime I went back to the campfire to mingle with the rest of the gang. Dodo had just come in. Dosai was happy. It was great meeting Mayur with whom we had a great ride to Wild Valley. Brijesh and myself discussed what books we were reading. I met Arul and a couple of others who actually read my travel write ups for information. That made me feel quite flattered.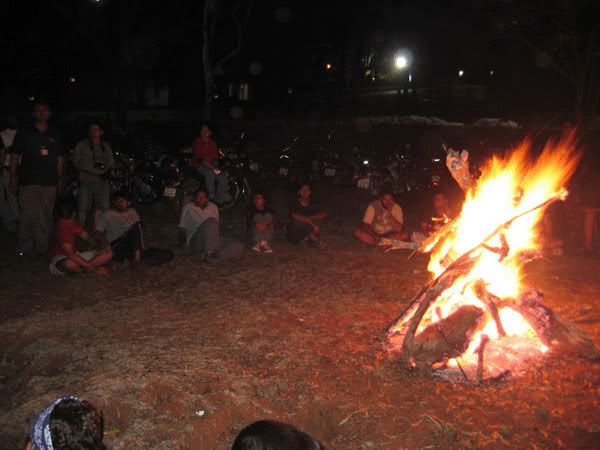 Sandeep Dutta and myself got reacquainted. I also got a chance to talk to Sandeep Menon about his North East riding trip. He was one of the few riders who had actually visited my favorite place in the world where I was born and brought up ... Shillong. The very name brings in beauty to my thoughts and I was glad that some had got to experience that what I always keep writing and pining for.
Met up with some great gals too and it was nice to see more women in the group. Muthu had a bad scrape when he tripped over a bottle and almost hurt his eye. He narrowly escaped with a swollen eye and a cut beneath the brow. As we turned in, a small group was up talking and listening to Mani's stories. Reminded me of Mahendra who is another great story teller.
Day 2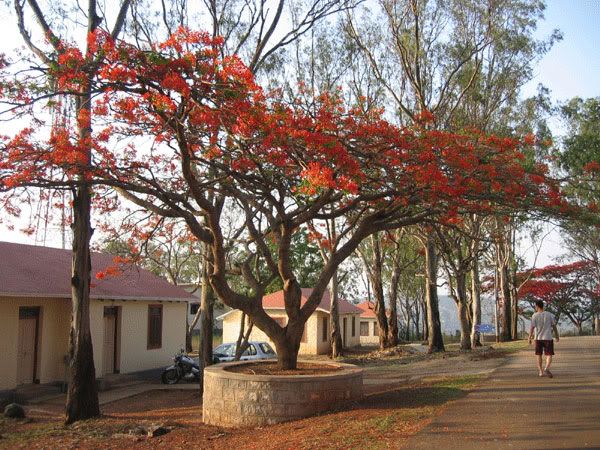 Morning dawned to the sound of Sachin riding or should I say blasting his way through the roadsand waking us all in that process. It was a pleasant morning and we went for a walk to the place where you could spot the valley and admire it... while sitting on the rocks. Took some shots met some more of the gang. As we were heading back, we saw Sachin bring in Amber and few others to ride through this rocky ground. Looked pretty adventurous since there was this sheer drop just a few feet away. The place was beautiful and full of the trees sporting red flowers.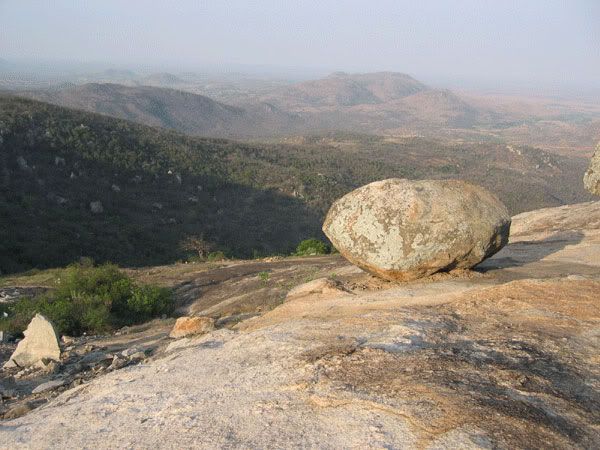 Breakfast was filling and after that we all started to ride back one by one. The Madras bulls had a long way to go. Abhi was waiting for Prashant to fix the JAWA 350 which he was riding. Abhi was kind of worried for it was running only on one cylinder. We made good time though the sun was beating down pretty strong. After sometime, we saw Abhi happily revving up in the JAVA which had made his day I guess. Adrian started late but as usual he made up his time pretty fast which was not a surprise. Muthu was not riding his bike because of his injury. KJ did the honors while Muthu came in the car with Anil.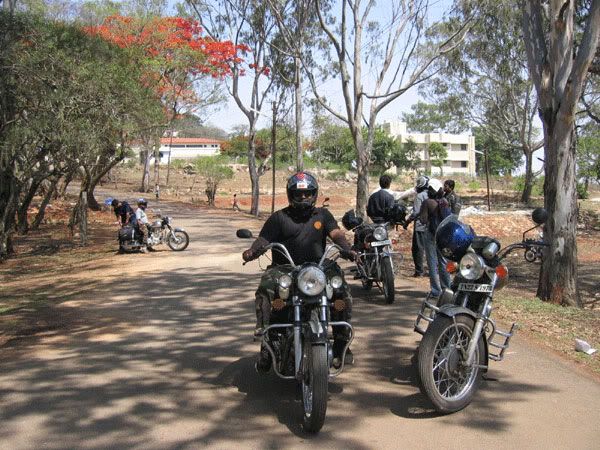 The whole gang came together every now and then. We were riding with PP and after sometime we lost him. We waited but could not get in touch with him since he had left his phone back at home. Our only consolation was that we had the gang coming on the way and hoped that he was ok. We made our way steadily and reached Bangalore at 1:15 in the afternoon. We later came to know that his bike had run into some problems. Hitting on a bump a bolt which holds the rear hub in place was broken and his rear brakes needed to be dismantled. Prashant helped him out as usual and at the end of it all, he had to ride back with his front brakes. And all this after PP had just done up his bike. But then that is the beauty of the Bullet, even though it breaks down somewhere one can always ride it somehow back to one's home.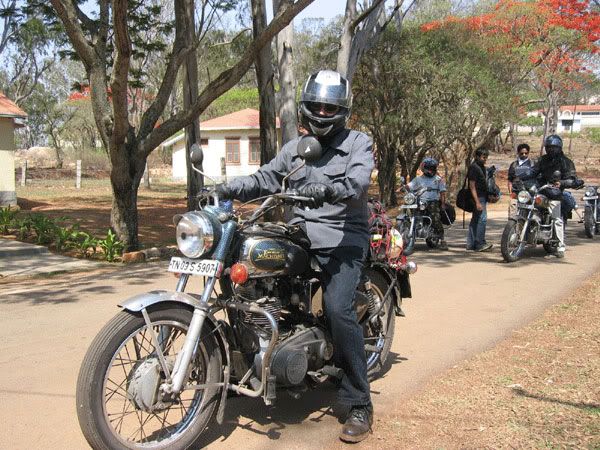 And thus ended another journey of the connecting with the brotherhood of common passion and the spirit of freedom.
Thank You Madras Bulls
for making our weekend special and it was great meeting you all. The party was great, the organization was great, the company was great and it was time well spent.
Notes:
A party well organized is a party well enjoyed.
Be high but be smart ( dont know how you would accomplish that but however..)
Horsley Hills Details:

For enquiry please contact:


Andhra Pradesh Tourism Development Corporation
Punnami Hill Resort
Horsley Hills
Madanpalle
Chittoor Dist.
AP
Phone: 08571-279323
Fax: 08571-279324


Tarrif :

Governor Suites: 1000/-
Governor's Bungalow: 800/-
Wind Fall: 1400/-
Wild Winds: 800/-
Wind Whistle: 700/-
Family Cottage:700/-
Whispering Winds: 500/-
Single Cottage: 350/-
Dormitory: 100/-
Rooms are available with modern amenities, though water is a little scarce. A swimming pool is there for your leisure along with a gymnasium..