Route
Bangalore - Hosur - Krishnagiri - Dharmapuri - Salem - Rasipuram - Namakkal - Karur - Dindigul - Batlagundu - Periyakulam - Theni - Cumbam - Kumily - Chakkupallam Estate.
Distance from Madiwala Flyover -
530 kms.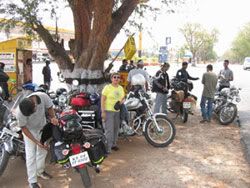 A long weekend and the club has planned a ride to
Thekaddy
.. this would be a long ride and would need a lot of discipline. The trip was kindly organized by
Muthu
and I would firstly like to thank him for the lodging arrangements he had provided for us at his family home and all that great food that the natives cooked for us. It is all these things that makes a trip so memorable... good roads.. good timing.. great place and excellent food.
Started at
5:15
in the morning which we just about managed to catch. There were about
22 bikes
in all with four pillions. Off we went via Krishnagiri and then stopped for some tea on the way to
Dharmapuri
. Muthu who was carrying a bag sideways
burnt
his clothes on the sliencer since the bag was touching the silencer. He had to throw away his clothes at this point. :)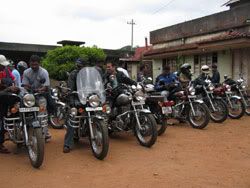 After breakfast we decided to stop for lunch at
Dindigul
. The pack of riders seperated into mini groups and kept proceeding... and we all regrouped at a petrol bunk before
Namakkal
. Muthu promised us a tasty lunch of
biryani
which was well known in that area. Entering the town in Dindigul, we were guided through the small lanes and shopping areas to finally stop at the famous restaurant which boasted of some heavenly biryani and we were not disappointed.. All of us hogged till there was nothing left to hog ... and after a pot bellied lunch we made our way slowly out of the town again guided by Muthu and hit the highway.
Meanwhile got to know the riders who were new to this group one by one. There were two ladies who had joined us and it was interesting talking to them. The roads were smooth and uncomplicated and it was one smooth ride. We did not get blasted much by the heat since we crossed the hot areas at relatively good speed and did not feel it too much.
Just before reaching Theni,
Prashant's chain broke
. We stopped and waited till he fixed it. Typical of Prashant, he was done in a few minutes and in those few minutes we were also surrounded by the village crowd who came in to see the from everywhere it seemed what was and as soon as Prashant finished fixing his bike we were off. I think he is a whizz at fixing bikes and has a great knowledge about Bullets. Given the amount of miles he has covered all over the country it should not be surprising that he would be so well versed with the problems and the solutions of the bike. Again as we were riding, Prashant's kicker just fell off and it was pure luck that it did not get smashed by the huge buses that we had behind and in front of us.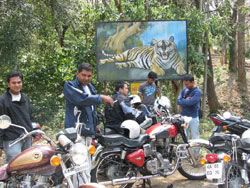 Prashant was back on the road and we followed him.. and we all regrouped near Theni and then after that at
Gudalur
petrol bunk. It was already cool and it was getting dark. While waiting at Gudalur, we spotted a lot of cute donkeys passing by and I could not resist taking some pics of these fine animals who redefined the meaning of the pharse beasts of burden. I noticed one almost carrying a whole house and walking effortlessly.
We hit the ghats and by nightfall we were at
Kumily
. Its a bustling town and can be called a central point to travel to many places in Kerela.
Periyar lake
is nearby.
Munnar
is about 100 odd kms from there,
Kodai
is also accessible from here.. and most of the towns seem to be between 100 plus and minus kms on and off. It would be ideal to keep this as a base when you touring this place.
Reached the estate house and did one of the most dangerous off roading in the dark. Muthu called it the Endurance Ride... and was it an understatement...The whole path to the estate is laden with big stones which is a nice path to walk in but definitely not something to ride through. After holding my heart in the hands... for what seemed like a lifetime we reached the house, freshened up and chilled out for the evening on ride stories and funny anecdotes.
Dinner was served hot and tasty and just at the right time.. with great food and some great drinks it was an end to just the perfect day. As I was dozing off, I heard Adrian and Lloyd rev up to the house late at night.
Day 2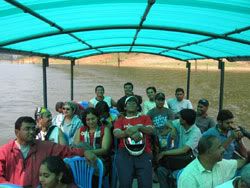 Morning dawned fresh and cool. We were scheduled to leave for Surali falls and then Periyar Lake. The plan was to travel to
Periyar lake
book tickets , take off to
Surali falls
and then come back in time for the boat ride. When we reached Periyar forest and booked our tickets, the time went way off the list and we ended up chilling out with beer and a curious monkey in
Periyar House
, had lunch and started for the boat ride. We had a small photo sessions by the camera freaks who tried to capture a beautiful black squirrel on their lens.
We very well knew that there would be no wild animals and the evening boat ride was fully booked. So we all agreed to the 2'o clock boat ride anyways. We had this breezy boat ride for 2 hours across the lake and many of us fell asleep including me during the ride. Since there were no animals, the camera whizzes decided to take some shots of the sleeping humans. And there was lot of leg pulling. We did spot some wild bisons and deers and wild hogs. After two hours we were back on the road throught the forest. The plan was to ride to Surali falls and it was getting late. Some of the guys decided to head back to Periyar house and have some more beer while we set out with the other group for the falls. While coming out of the forest, "Vodka" aka Harish took a fall where he hurt his hand. He was on his RD 350 and miscalculated a turn.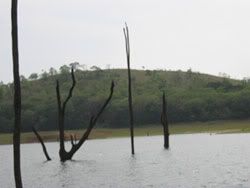 To reach Surali falls early, Muthu took us through a beautiful shortcut. Though the road was good, it was not safe since it was newly laid and the gravel was still fresh. Chaitra took a fall after losing control of his bike. His pillion Sindhu, got hurt but she managed. Inspite of this it was a beautiful ride.. we were trying to make it to the entrance of the forest at the nick of time but even though we reached and bought the tickets.. we just could not make it. On the way, we saw some delicious grapes being sold near the vineyards but gave up the idea of buying them since we were getting late to go back. Two of the riders unknowingly picked an argument with a chai walli out there... which made them late by few minutes.
We had to content ourselves with the ride. On getting back to the estate house, we relaxed with some drinks and the other group had kindly remembered to get some excellent tasting beef fry. Some good vodka and some great food which the cooks in the house had thoughtfully prepared ( which had mutton curry, egg bhurji, etc), we had a perfect ending to the day. After eating to our heart's content we retired early since we had decided to leave early in the morning so that we could beat most of the heat and cover more kilometers.
Day 3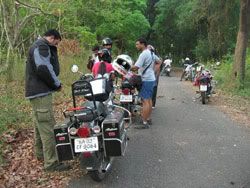 Rising early we started off at
5:00
in the morning and we effortlessly covered good distance.Watched the sun rise as we rode and it was a beautiful experience. While the group regrouped at
Karur
and then at Salem, we decided to continue from
Salem
. It was
11:30
and the heat was getting to us. Rocky and myself decided to carry on and have lunch at Dharmapuri. We reached
Dharmapuri
at
12:45
.. just in time for lunch and entered
Hotel Sri Rama
which laid a good meal. I feasted on curd rice and some more curd to beat the heat. It worked and after lunch we carried on till we reached
Krishnagiri
.
Meanwhile we got the message that Prashant's rear break had broken and it took him some time to fix that and he managed the distance with his gears and his front break.. Should I say
Bullet Zindabad.
It is only with a Bullet that you can take it around at any condition.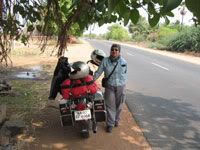 Took a break at Krishnagiri at a chai place whose owner welcomed us like long lost pals. We waited for some time for the group to arrive but then decided to carry on since th heat was getting to us. She remembered us from the time when we were returning from Hogenakkal . She had a small hut then and now she had her own hotel as she proudly told us. I was happy to see a known face. She makes a mean coffee. After refreshing ourselves with coffee, we carried on to Bangalore and reached home by
4:00
PM. The rest of the group made it by
5:30
pm which was a pretty good time.


Notes:
Rookie riders should always take care of the right gear when riding.
Speed does not always thrill. One should know one's bike control and the personality of the bike before taking risks.
If you are passing through Dindigul, you must try the biryani place there... for details , contact Muthu.
Kumily is a good base to move around Thekaddy.
Helmets must have a thermocol covering inside or a proper fall back cushion. Chaitra's pillion got hurt in her head because of the lack of covering or so it seemed.

Jackets are a must while riding. Saves a lot while falling.
"Catching up" syndrome does not work with group rides.