Route: Bangalore - Hosur- Salem - Yercaud
Distance - 240 odd kilometers
view from Pagoda point..
Originally uploaded by Pallavi Barua.
It was time for celebration again.. RTMC was celebrating 4th anniversary and it was planned in Yercaud. One of the serene places very near Bangalore.
We could not take our bike this time since it was running in and we thought to do this trip with our Jeep. So off we went on Saturday morning all packed and ready to hit the highway. We waited for the other bikes to come in and we met Subin and his wife who were also joining us in their car.
So off we went. One group had already gone ahead. We caught up with them in Hosur at the regroup point where we would be having our breakfast. They left as we were having our breakfast and we went soon after polishing off some Pongal and coffee.
Hitting the road we were soon bombarded with flying grey butterflies. This reminded me of our Yelagiri trip where I saw innumerable butterflies. Maybe it was their mating season or something. They came at us from everywhere… and it seemed like a miniature scene from the movie Birds. LOL.
We reached Salem shortly and stopped to take some photographs.. there is a particular hill which swoops down to make a perfect picture and this time it was green.. because of the rains..
Lunch was a short affair where we had some BRIYANI (as the label said) and carried on ahead to Yercaud. It would take us some hour or so to reach the destination.
Salem was hot and humid and we were aching for the cool breeze that we were imagining high up in the mountains. We drove up 20 hair pin bends and managed to reach this pretty place. Yercaud is small and pretty. That's the first impression that I got about this place. As you explore further, you might be in for a surprise.
It is supposed to be known as Poor man's Ooty but I must say that this place is far better than Ooty anyday.. if you compare the commercial aspects and the crowd factor in that place. This is an ideal place to getaway with friends for the weekend from Bangalore. You need just two days in hand and you can relax and go sightseeing and come back to join office on Monday at the same time without any hassles..
The 4A affair was well organized and well scheduled but the only bummer was that there were more people that what was expected but that too was managed well. Anil, you did a great job along with your team there.
We were greeted by the bikers who already reached there and were relaxing. We met up with the Madras bulls who came in by late afternoon. Ranga and Dosai were fed up of being the sweep and nursing three punctures on the same bike. They left the biker to manage and continued. The said biker.. with a rubber band on his beard.. came strolling in after sometime.
Ranga entertained us with his bike stories of Leh. It was fun listening to him and have him pull Chaitra's legs.
We took off for a walk to explore the town. On the way we spied Anthony from Mad Bulls nursing a puncture. Well this was definitely not a Mad bull day. We met Dub dub and his pillion Ajit on the way. They seemed to be lost but they got their bearings when the saw the group. The whole town was buzzing with bulls and we definitely attracted attention where we went.
The cake was cut and a bike was rolled in by Prashi. I think it was the oldest bike in that lot.
The evening brought forth the gaiety and the party started rocking after a while and the dance floor was rocking with dancers… it was fun..
The cake was cut and a bike was rolled in by Prashi. I think it was the oldest bike in that lot. The Mad Bulls presented us with a cap each.. Thanks a lot Mad bulls..
Amidst this, Rocky took on the job to fix Vijay's leaking tank. That done.. Rocky misplaced his watch and went watch hunting. Typically it was in Muthu's room where he had been to clean up. And to think of it, this was the second time he almost lost his watch and he left it for the second time in Muthu's dwelling place.. Is there a karmic thing going on between Rocky's watch and Muthu … heaven knows.
Rocky came back to see that he had misplaced his bottle of vodka somewhere and went on a binge with rum and whiskey. The after effects of that potent mix of raw alcohol was not very pleasant for him.
The DJ did his job well in playing all kinds of music.. the Tamil songs were great to dance with. Sylvia, Ramat's partner was the busiest dancer of all. She seemed to love dancing and it was a pleasure to join her on the floor with the other gals.
It was nice meeting new members who joined us there... Freya, it was a pleasure to meet you. Hope we meet each other again on the highway. Anu, the same goes for you.
Sam came in loaded with T shirts for the group all the way from Tirupur.
We retired somewhere before midnight when I could not dance or move anymore. It was great fun and the final count of bikes was 84 attending the celebration.
Morning dawned with the chirping of birds and breakfast was the occasion to inaugurate the T- Shirts that Sam brought in the night before. Some bikers left early while we waited for two bikes which had some problems. We were giving one pair a lift. Sai and Sudha's TB had some issues with the engine. Sukesh's bike had some gearbox issues. It was decided that the bikes would be transported back by a truck in Salem.
We reached Salem during lunch time and the drive down was amazingly beautiful.. the roads were just perfect and we could see lots and lots of monkey families. This place must be a buzzing ground for them cute critters. You could see all shapes and sizes of them critters. Rocky also identified one as a lonestar cowboy hahah !!
After the bike formalities were done the group carried on while some of us stopped for lunch. We had
Kuttu Parathas
, a speciality of
Salem
which involves the paratha being shredded and then vegetables or meat added to it and fried on a tava. It was yummy.
We made good distance after that and reached Bangalore soon after 6:30 and laid our tired muscles to rest.
It was great fun joining in this event and hope to see more of you all riders on the highway…
Arun from Mad Bulls had a bad scrape where he broke his jaw and has to undergo surgery. He was riding pillion and we hope that he gets well soon.
For more details on Yercaud you could click these links
Yercaud- Poor Man's Ooty
Yercaud
More on Yercaud
There are enough and more lodging places to book yourself in. We stayed at the Hotel Shevaroy and it was a pretty charming place.. On the way to Pagoda Point, we spied some beautiful cottages which you could try...
Here is a link
which you could try...which leads you to pretty Grange Resorts.
here is a collage of the
party
... you could view the scenic shots
here
.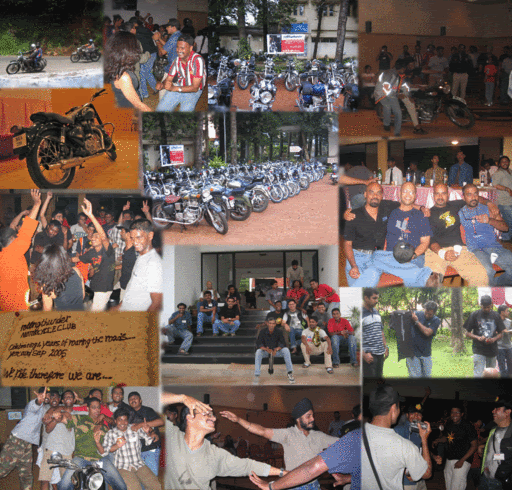 RTMC : We ride therefore we are