Day 1
This trek was being planned for a long time and it was decided that we would trek in the Parson's Valley but it did not work out since there was some issues in permission. At a very short notice we could manage a trek in Kotagri courtesy a good friend's relative. So off we went on Friday night. The tempo traveller which was supposed to pick us up came in an hour late with a driver having a surly attitude....
We all got introduced to each other.. we knew some of the gang and some were new faces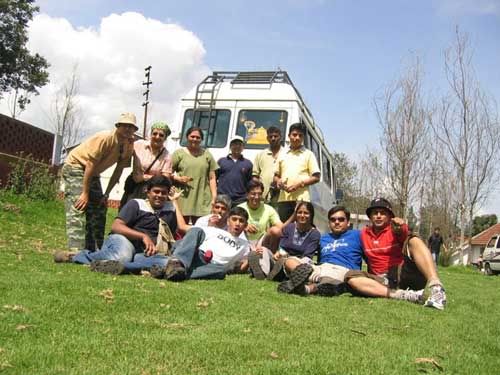 1. Kapil aka Kaps aka Topi
2. Bumboo aka karthik
3. BaaBaa aka Kiran
4. Rakesh aka Rocky aka Budhua
5. Pallavi aka Pal aka Mrs Budhua
6. Vivek aka Mr Isolation
7. Sujata(Vivek's wife) aka Mrs Isolation
8. Suresh aka Billoo
9. Preethi aka Sherni THE mombati THE Tubelight
10. Rahul aka "Parcelling" aka "Tracking"
11. Upendra aka Cricket 12. Hemanth aka Chalu
It was almost midnight and by the time we picked up everyone driving all around in Bangalore it was past 1 in the night and we were raring to go. I was hoping that we could sleep but the seats were not comfortable enough to do so.
We were on our way to Mysore and halfway down the highway we saw that the driver was falling asleep on the wheel and however hard he tried he could not sit. It was scary watching him drive all crooked off the wheel and almost hitting the median in the middle of the road.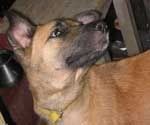 We stopped him near a shop and told him to rest for sometime before he continued. As our driver slept over the wheel, we sat outside chatting. I was just thinking how to pass the time.. when I spied a dog standing on a short door of the shop and looking at us curiously. I did not hesitate to go and say hello to him.
Raja as the dog was named... did not waste time making friends.. shy at first but gained confidence as I talked to it and in that process spied a cat too sitting on a stool...The shopkeeper a middle aged pleasant woman... was one who seemed to love animals.. she was very enthused looking at me taking pics and interacting with the cat and the dog.
This brown cat had a love hate relationship with the dog. He had a roving eye and like a typical male cat and to stop him from getting hurt he was tied.. I coaxed the woman to untie the cat... she told me that it was for his own good since he was known for his disappearing acts,.. this was a young cat ... very eager to explore the outside world.... Raja never hesitated to play with the brown cat and also tolerated the slaps that he got from it..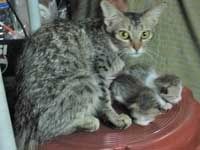 The shopkeeper ran inside and got her daughter and one more cat with her kittens.. Rani was the feline was called was a wary mother... since the kitten was only 80 days old.. the shopkeeper's daughter also came out and showed me kittens. Rani was anxious about her babies and did not know what to make of my camera flashes... but i assured her that her babies were safe and did not go near her...
It was endearing to see this family all busy even at 2 AM in the morning. After saying my goodbyes we boarded the bus and went on our way to Ooty through the Masinagudi ghats which had about 36 hairpin bends. We stopped at the foothills of Masinagudi and had some tea to take away the state of sleeplessness...The tempo climbed pretty easily up the ghats and we reached Ooty soon.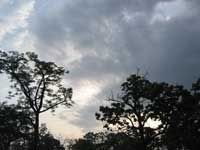 As we entered Ooty.. we were welcomed with heavy downpour of rain which made us wonder if we could do the trek. Sujata was persistently hoping that we would keep cozy with Antakshiri if it rained .... but no sooner the thought crossed our mind... the skies cleared and we reached our YWCA Anandagiri guest house which was near ATC bus stand in Ooty not far away from the railway station.
It was about 11 in the morning and we had to freshen up and start for kotagiri for the trek. Kotagiri was about one hour drive from Ooty. We were all lacking sleep and dying to take a short nap but that was not to be...
We all freshened up and started for Kotagiri. Breakfast was good at one of the south indian hotels... where we got fresh idlis and dosas. We had our fill. I stuck to idlis since we would be doing the ghats..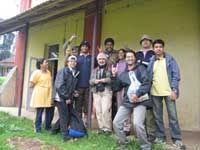 As we came out of the hotel we could not find our Tempo. The driver had cooly vanished leaving us there since he could not get a parking place. After walking for sometime Kiran aka Baba was sent to the hotel in the hope that the car would be there. And correctly we spied the car there from our end,.. Sheesh .. and then we all continued up the hill to Kotagiri.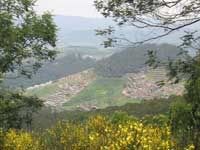 The road seemed to be going round and round and the heavy breakfast took a toll of some of the gang specially Billoo who was not very upto the winding ghats. Baba also was feeling uneasy so he started talking nonsense and I joined him.. knowing his dilema... It was a beautiful road with lots of picture perfect mountains but we were too tired to appreciate it and by this time all we could think of was some sleep...
Reached Kotagiri and found the guide who was a part of the Kotagiri Wild life society and who arranged the trek through a friend's help. We also got introduced to Dr Ramakrishna who provided us with the guide. The guide Mr Raju took us to the Estate and told us that he would be taking us to Rangaswamy pillar which woud be some 6 hours trek to and back. Our tempo needed to be repaired and while Rakesh and Karthik were getting the guide our driver took some time to try and figure out what was wrong ...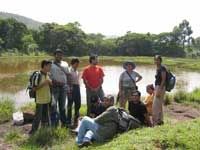 We were all excited about it and ready to go. We went and stopped at the base of the hill which was carpetted with tea plantation. It was was a beautiful view. We did not know what to expect but we started the trek through the tea plantation and slowly the road started getting steeper and steeper. It was festival time here and the whole place was full of loud music and colorful decorations.
We trudged up the stony path and it became steeper and steeper .. it was a tough climb but after sometime we got used to the momentum of the walk and it was easy to carry on...from there.. we crossed through huge canopies of trees and came out to clearings which were pleasantly surprising.. sometimes it was a pond.. sometimes it was a new hill sometimes.. it was grassland.. it was interesting how the landscape changed after each jungle...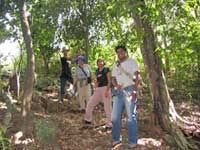 The crickets were having a gala time in the jungle screaming at each other and if you were in a movie... this sound effect would almost make you go crazy.. the path was scattered with ferns and it was cool though the sun was shining at full force.
Upendra who had just watched Kaal could not help compare it to the movie. I guess he was very impressed with the movie. He then told me the whole story of the movie as we walked...
We took short breaks on and off and reached the destination after about 2 hours.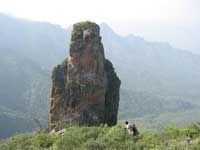 Rangaswamy pillar which was a huge monolith some 2100 metres above sea level. We were quite awed by the scenic view that greeted us... mountain ranges all around us and we wished we could camp here..
Our guide had another local guide with him who had led us here and he was like a mountain goat climbing this way and that. Reminded me of my native place were we used to climb like that ... now it was way past that time...
We had our lunch there which was kindly provided to us in packets by the guide. Lunch comprised of curd rice and tomato rice very well made from Hari mess in Kotagiri.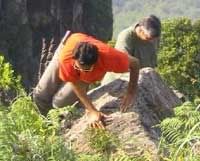 Some went down the slope to have a better look at the pillar... a couple of us had our lunch there. Baba who was a little hesitant to go below.. went down anyway but coming up was a problem for him and he got stuck on the rock suddenly realising that there was a sheer drop from where he was trying to climb up... it was a sight to see Baba totally frozen and spread eagled on the rock refusing to let go ... of his legs and hands. We encouraged him up but he remained like that for sometime... Upendra went down again to help him climb up.. Baba by this time had got back his fledging courage and came up the rocks...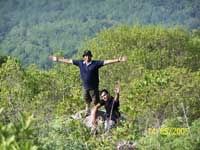 After lunch we started back.. I started first since I was slow compared to the rest of the group and the rest followed some yards behind me... Upendra also was with me and we went on ahead slowly and steadily. The slopes upwards was sheer effort since my legs were quite tired by this time... but i pushed on ahead... till we reached the tea plantation and back to our Tempo.
It was a great day... and we were pleasantly tired. The gang wanted to trek some more.. but it was getting dark and we promised ourselves that we would be back to this beautiful place.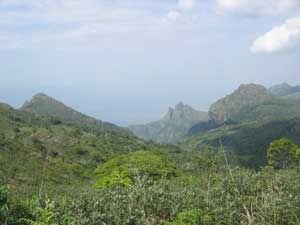 Thanks to the organisers who could ramp up a trek at such a short notice...
Kotagiri has many places you can trek.. and see ... and it takes more than a day to complete all of that.
Reached Ooty sometime past 9:00 and we stopped for dinner.. We managed to locate a hotel near our guesthouse but all places seemed to be full.. Somehow we managed to get places after discussing and negotiating with the owner.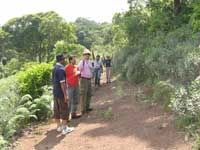 Rocky and Kiran had already huddled up in the bar which the hotel sported which seemed to be very shady place... but who the heck cared... I went ahead and joined them since I needed a drink after all that trekking... We hit couple of pegs of brandy and some food which was pretty ok.. The restaurant attached was so crowded that we had people standing staring at you directly urging you to finish your food and get out.. I was happier in the bar.. with Rocks and Baba. The gang however was not so lucky to have good food. A couple went out had something outside.
We asked the others to continue while we slowly finished our drinks and the food and started walking back.. it was nice to walk back inhaling the fresh mountain air in the night.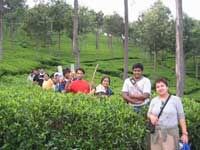 As soon as we reached the dorm, there was a lot of leg pulling in the gang. Priti's bed just dropped a wooded bar suddenly out of nowhere. Rocky the ever ready fixer... went and tried to fix it with a candle.
Baba got the bed which was the next version of a rocking train. We somehow took bath with lukewarm water and went to bed. Before I knew it my the lights in my head went off.. and I was off like a log...
Day 2 :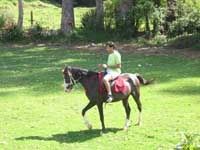 5:30 in the morning and we all woke up to loud banging music... which was definitely not a pleasant way to start the day. We had no option but to get up. The music was blasting really loud now. There was some marriage happening on top of the dorm which was creating all that ruckus. We freshened up quickly.. and meanwhile I spotted horses riding inside the compound.. I was very excited to have a short ride since I had never ridden a horse..and one by one some of us took a ride.. when it was my turn it took some effort and Rocky's help to get on the horse.. and Priti also mounted another horse.. Priti's horse guide left her all alone to follow my horse and the guide...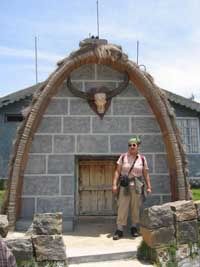 Priti's horse was pretty frisky and I think he knew that he was free to do as he pleased. So he veru reluctantly brought her up behind my horse which was pretty docile.. just when we were about to go down a slope to reach where we started.. when suddenly the horse just fell down taking down Priti with it... My horse was halfway down the slope. My guide did not know what to do.. Priti was lucky that the horse did not fall on her. After dislodging Priti, the horse happily got up and shook himself..
My horse was a more docile fellow.. he stood as I clumsily got down again with Rocky's help. It was a great ride and myself and Karthik rushed to have a short breakfast at a nearby shop..
Before we started our journey I took some
shots of the beautiful flowers in Ooty
.. We started from Ooty and the plan was to go to Dodabetta peak and then to Pykara falls and then to Bangalore through other route. Dodabetta was a bad idea since it was a Sunday and the whole place was packed with weekenders coming for a break here..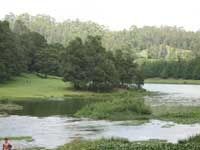 The gang carried on to the viewpoint while Rocky and myself chilled out and took some time to buy herbal oils and walk up to the Toda hut model that they had placed nearby. This place was a 5 minute walk up and we saw all guys trying to take the best picture by the hut.. we went round the hut and when we came round , I saw a guy stripping his T shirt and trying a Rambo pose.. A la Salman Khan.. I wish I could take his picture but we were in a hurry so I asked him to move for a few seconds so that we could take a pic... LOLOL he thought that we wanted his bare chested muskuled pic and was disappointed when I assured him that we needed a few seconds for a pic of us... poor thing..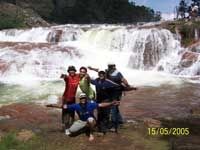 We started towards Pykara falls and I had heard lot of stories about this falls, The place itself was beautiful but it was crowded again. In the falls Kiran THE Baba.. decided to cross to another stone... and that was not agreeable to a cop who was standing by but Baba defiantly reported that in that place he was the police.. and finally somehow managed to come back.
We also picked up some baby carrots which seemed to be everywhere. It was a tasty snack to bite on the tender carrots. We had a short lunch and went on our way to Mysore and then to Bangalore..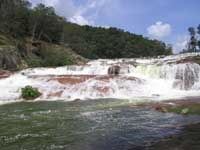 On the way.. we played Antakshiri which was modified to a sad song special by Karthik. Everybody seemed to have fun. Karthik also played the cassettes which he got last Valentine which he did not open till then...We were passing by the Mudhumalai forest and we also saw lots of deers and a family of elephants waiting to cross the road..
After Antakshiri, it was joke time. And everybody started telling jokes. I was the silent spectator who had a great time. When there was a pause... it was PJ time.. And suddenly Hemant pipes up with the joke of how to kill an Elephant series ... which made everybody pull their hair.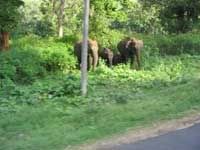 Sujata was a box of PJs. She ended with a joke of the ping pong ball which seemed to go on for hours.. till we all were ready to get out of the bus...
As the joke session ended.. ghost storiies started which made some uncomfortable.. so it was stopped after sometime..
We had dinner at Shivalli and then continued on to Bangalore. The driver was as surly as you can get but we did not care. We reached home nice and happy near midnight.. planning for another trek very soon ...
And heres till we all get together again... Hip Hip Hurrayyyyy to Kool Trekkers...
Staying in Ooty ( one of the best places to stay which has a range of all rooms from 100/- to 1000/-)
YWCA of India projects, Anandagiri
Ooty
04232444262
04232442218
Click here to know more about Kotagiri..