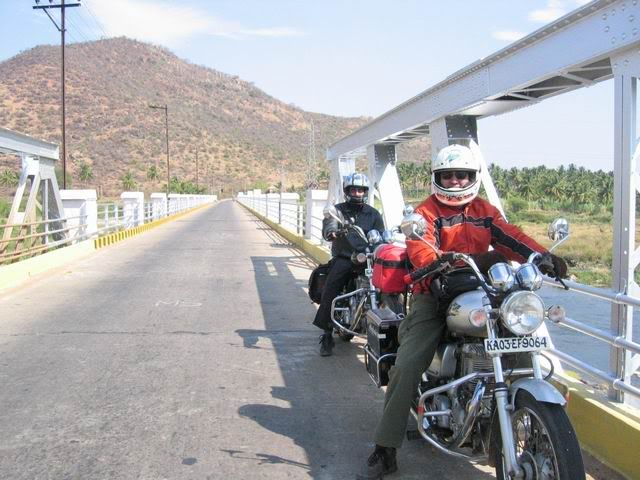 Thats what we did this last weekend !! Went riding all the way to Wild Valley farm which is a valley nestled in the centre of the mountain range.. far from the madding crowd and definitely far from everything techie... LOL...
Started the ride at morning seven. Met up with fellow biker Mayur.. By the time we were
hitting Kanakpura road it was blasting hot. The heat combined with dryness was pretty
tough but we kept on hoping that the destination would be cooler.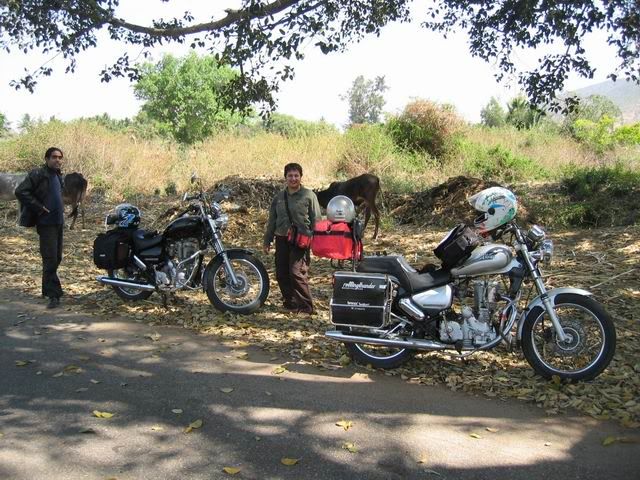 At Kanakpura we met the Bangalore Chapter of 60 kph who were on their way to Coorg..
and rode with them for sometime and then went on our way.. since we had to cover good
distance and wanted to beat the heat as soon as possible.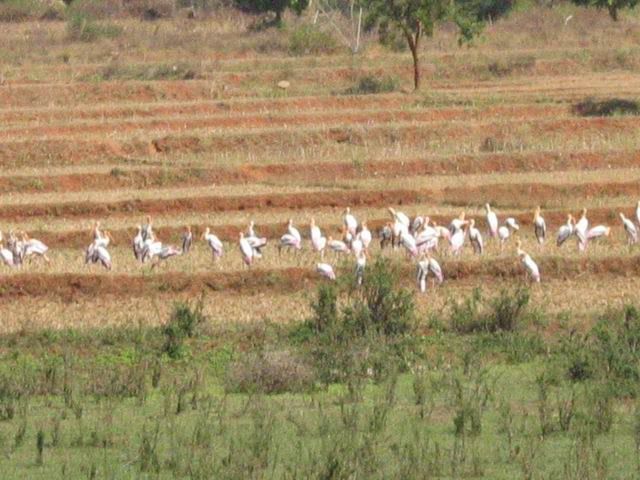 As we hit Kollegal, we took the diversion to the right and carried on. We passed a couple of green tank bunds which had exotic birds feasting on diving and catching fishes... which was a delightful sight to see... As soon as we took this diversion.. it was just a thin strip of fairly good road and lots of dried fields on both sides.. mostly already harvested raggi and maize... and sometimes you would meet a tree or two... Though it was isolated ... it was a pleasure riding without any interference... We started coming across mountain ranges... followed the path which went along with the mountain range. It was like discovering the length of the range which was never ending as we rode...
Came up to a small village known as Lokhanahalli which was one of our landmarks. We stopped on and off to push some liquid in our systems.. and then continued.. I took the time to click some pics.. Wild Valley does not have phone connection or signal.. so Mayur wanted to call up his parents to let them know that he was not lost in the wild but definitely reaching there... We had reached the Dhondenling Tibetian Settlement.. at Odeyarpalya, which looked very pretty and which we would check it out while returning back.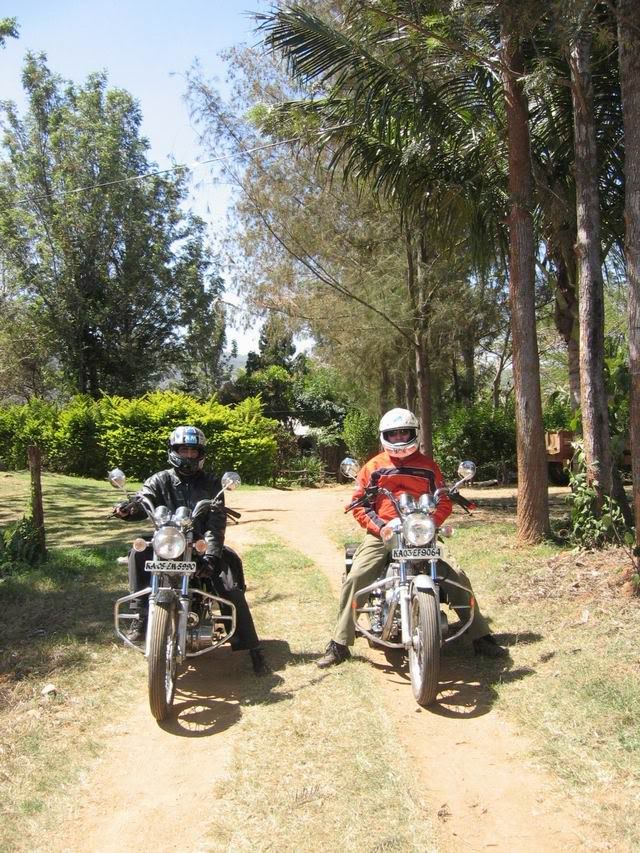 Continued along the same stretch of road through some sparsely scattered native population busy with working with the harvested raggi and finally we reached the checkpost between Tamil Nadu and Karnataka.. You do not need to pay any amount while entering Tamil Nadu. That fee is taken care of by the farm. You would have to pay a nominal fee to Daniel when the bills are settled.
The road to the farm is pretty rough along filled with uneven highs and lows and a lot of gravel. It will be great if you are going on a four wheeler but i would not really advise caution if you are riding.. Its a short but quite unpredictable stretch.
We reached there just in time for lunch. two small groups were already there chilling out. We met Daniel who was very hospitable. He invited us to use to pool which was a cute thing and welcomed us with fresh lemon juice which was really refreshing.
After sometime we had lunch.... which was a pretty chilled out affair with home cooked food and all along with fresh farm vegetables..!! One of the guys in one of the groups just wasted the food which was a sacrilege I thought ...If you do not want to eat do not serve it in your plate.. this was like deliberately insulting the chef. After lunch Daniel invited us for a short trek down the stream .
We trekked through the boulders and saw lot of fresh foot prints of different animals. The stream was kind of a waterhole where all the animals come to it seemed. As we were walking through quick sand type of soil, boulders, dead branches, it was like we were totally in the wild at the mercy of the peering eyes from inside the bushes.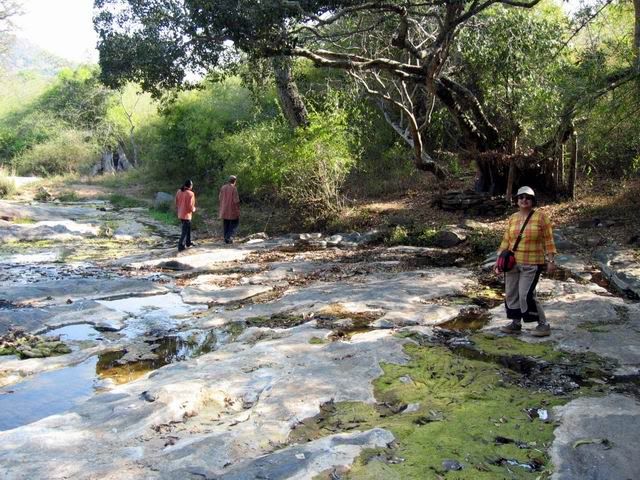 Daniel is an experienced farm owner and he has seen different type of hunts.. for example wild dogs hunting a baby deer. It is a different story that the native tribals jumped on the almost dead baby deer.. and made a tasty meal out of it then and there... I was thinking to myself... how are we different from hyenas who wait for someone to hunt and then take the catch away from under its nose...
As we neared the stream, the farm guide along with Daniel suddenly told us to be quiet an all of a sudden we were instructed to run since there were wild elephants already in the stream and Daniel did not want to disturb them or rather did not want to get disturbed..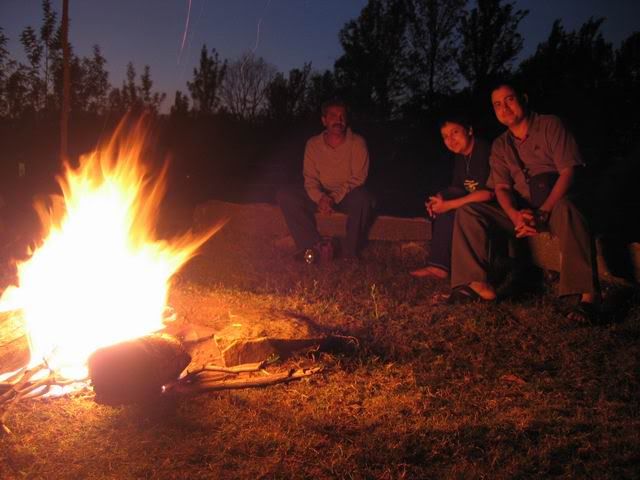 In the jungle wild life is rampant thanks to Veerapan who is the process of hiding in the jungle consciously or subconciously protested the animals from being poached or hunted. That made me feel good. It was nice to co- exist with wild life like this where they know their territory is safe and the farm is usually left alone..
Daniel told me about the tigers there.. but how the govt does not bother about them anyways.. since it would involve a long drawn out project to protect the tigers. And since the place did not boast of plush accomodation like Nagarhole where they concentrate all the forest research work..this part of the forest is totally ignored... reality bites but thats how it is...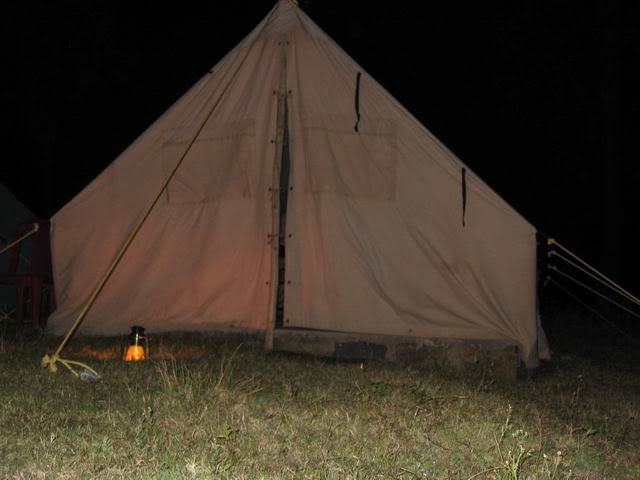 As the sun set over the mountains the campfire was lit and we sat in a circle on the wisely arranged curved stone blocks.. a bottle of vodka, the starry sky above, them music of different species of birds doing this and that.. and great company... and long stories... just when i was thinking that this was perfect getaway, I saw the moon rise behind the mountains. It was the most beautiful sight I had ever seen .. In a few seconds the whole valley was alight with moonlight. It was the most romantic time of the day. I thought to myself.. I could easily compose a song or two if i stayed for a week :) . Or write a book for that matter..
The other groups were of a different kind. One of the groups got their laptop for music and
all.. and the other group... did not bother about anything but making loud noises and
having beer which was pretty noisy. In spite of all this we had a great time.. round the fire.
It was chilly and after having 4 pegs I went to my tent and tripped off to the ZZZZ land.
******************************************************
Day 2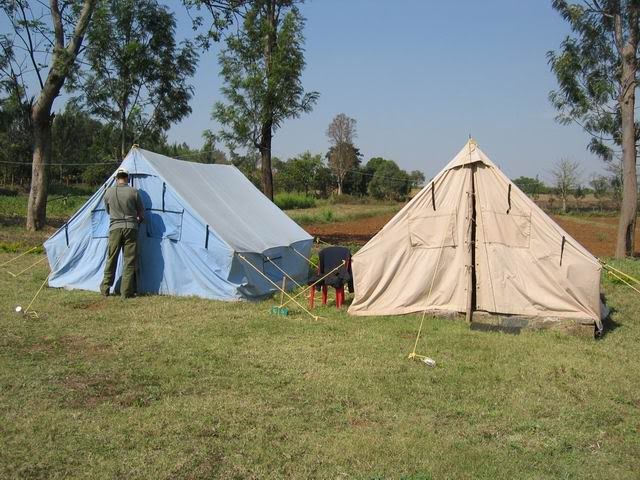 At night we could hear wild elephants trying to come inside the farm. They are pretty
insistent mind you but the guys who were on watch chased them away. Daniel also slept
in one of the tents.
Morning dawned with the chirping of birds. After a long walk around the farm with the help of a guide, we packed our bags, had a fresh bath and great breakfast. We were on our way by 10 in the morning. We planned to go to Dhondenling settlement in Oderyarpalya which was on the way. It was hot to the extent that you coul feel your pores crackle with dryness... The ride was not a comfortable one for me since I was in the process of having a heat stroke.. Reached the Tibetian settlement.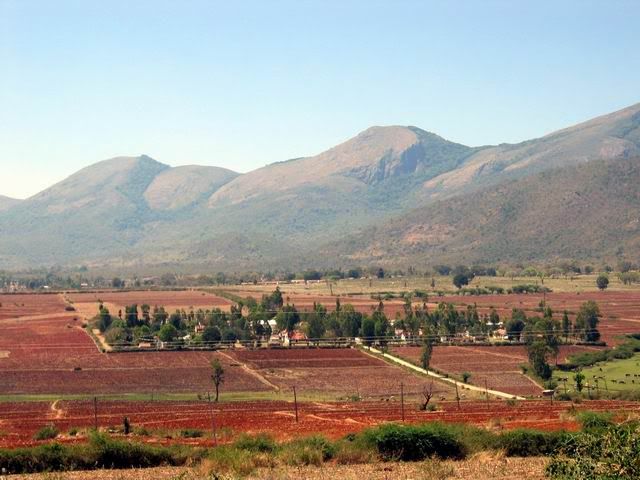 Now this place is awesome. It is like a small country in its own . A very well organised village with great farms. The villages were divided into A village, B village, C village... etc. Each alphabetical village would be self sufficient and not far from each other.. they were placed in different areas easily accessible to each other yet having its own identity... between the farming landscape. Its a sight to behold. All the main offices were in the centre of the town. I was amazed by the beauty of this placed tucked away.. at the heart of the mountain range. The Dalai Lama usually stays in this town in his palace when he comes visiting. His palace is also quite colorful though we did not get to see it from inside.
After having lunch of tasty momos, and three glasses of sweet curds, we made our way from this little haven ... It was getting hotter and hotter and I was feeling sicker and sicker even though I kept myself replenished with oranges, electrol, water, etc ... we reached Bangalore at 6:00 and I just crashed off for two days... as a result of excess heat. But all said and done it was a great trip and we will do it again when the monsoons make the land greener and more beautiful..
Notes:
Map to get there !!!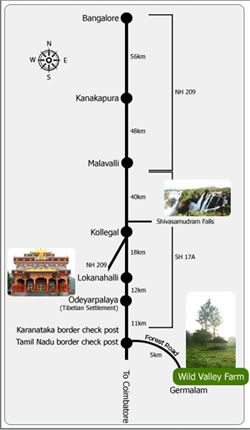 This seems to be the worst time of the year that you would ride to this place killing to say the least.
Take your own booze if interested.... this place does not supply booze !!
Take lots of water.. and electrol if you are travelling at this time of the year.. the weather is quite bad ...
Daniel owns about 100 acres of land here.. but only 12 acres of land is used for the farm . He has planted all the trees in this land.. it was a ravine... it seems and had only three trees..

Its the ideal place for couples... so make sure you take your better halves... along with you to enjoy the beauty of this place...

Its heaven for trekking enthusiasts.. you can choose from the easiest trek to the toughest one which will take you high above the mountains !!

This place is not commercial and if you are interested to get in touch... you could get in touch with them through their website or mail me at pbaruah@gmail.com

FOR MORE INFO you can CLICK HERE !!