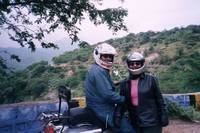 Another long weekend and we were planning on a short ride.. Informed Praveen who is convincing his better half that riding can be an enjoying pastime, and Lohit ... and we planned the trip to Hogenakkal. Originally we planned Ooty where Kartz asked us to join him in his camping adventures but we decided to ride to HOgenakkal instead since we did not want to ride much.
Sunday dawned with a very bleak weather. Getting up was a pain and I nearly abandoned the idea of getting up and facing the day.. but Rocks was over enthusiastics about dong the ride. I was in two minds since I was not comfortable about riding in the rain.. and then I thought to myself what the heck...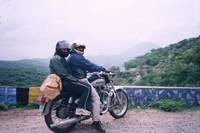 Met up with Lohit in that despairing weather... at 7:30 in the morning which looked like a depressing 5:30 am in a rainy morning !! We rode our way across the highway towards Krishnagiri. We would have to go straight from Krishnagiri and then reach Dharmapuri. The whole highway it was drizzling and well Praveen's wife had a tough time with light clothes and no mud flap on the bike. But she was sportive enough and carried on soaked to the bone, until we could get a dry T shirt for her and after Praveen fixed the back of the bike with a gunny bag... it was a different story that Praveen will never be allowed to forget this ride... ha ha !!
Met Ambar on the way who was on his way to Waniyamwadi to have the famous biryani.
After the smooth road down to Krishnagiri we came across lots of bombed roads. Rains, bad roads, aside the ride was pretty ok. After Dharmapuri, we entered the roads to Hogenakkal. Lohit had some issues with his electricals which ws giving out confusing signals.. the guys did some tinkering ... and we were on our way...
The roads slowly started becoming smooth and we could see a lot of vegetation... suddenly we come across beautiful ghat section which was amazing to behold... small and beautiful.... I may be biased but mountains definitely do something for me.. and nothing like riding the curves on mountains...
We took a break there,.. talked to couple of smart monkeys... the monkey population seemed to have been thriving here and it was nice to see that . .
The weather was clearing up and we rode on to through the winding roads through the dense forests till we came upon the sound of water gushing by...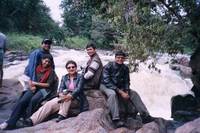 Roads were okay and the weather had started to warm up... we parked our bikes and immediately we were accosted with boatmen who wanted to take us across to the other side... we were asked whether we would like to have a whole round which would take about 2 to 3 hours for 300/- and we took our breath and selected two guys who were not pushing too much ( reverse pschycology or what ) and they led us to their coracles ... and we convinced them that we would like only the half and hour ride and see some part of the falls and not the whole thing.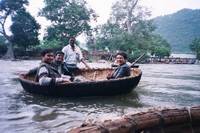 I was not to enthusiastic about the water since I could see a lot of mild rapids... though the others were excited. Praveen spotted fried fish and he wanted to have lunch and then go across .. but then decided that we do the whole sightseeing and then go for lunch.
Getting on a coracle was a first for me... so I was pretty nervous... somehow managed to get on it... we were three of us, Rocky, Myself and Lohit in one and the other was occupied by Praveen and Aashika. They looked pretty and here I was shitting bricks..
The boatman took pity on me and assured me that I did not have anything to worry as he would be there to hold me first if anything happens. I need not have worried.. since it was a short but fun ride... we crossed over to the other side where it was crowded with people....but not that crowded too.. in fact the existence of people somewhat reduced my inherent trepidation of the huge falls. And we walked across the pavements where one of the boatmen took us to vantage points from where we could view the falls well...
There is also a small tower.. from where we can climb and have a birds eye view of the majestic falls...
We took a couple of pics and nearby we spied young boys say maybe 10 year olds trying to dive from a great height... but for 5 rupees.. if you give 5 rupees one of them would show you the dangerously steep dive and you would get a thrill... we decided not to encourage the boys... what does one have to do for money ??
Anyways.... we crossed back and while crossing back, the boatmen were very nice enough to let us pose in the coracles... they stopped the coracle in the middle and stood for some seconds... And then came one of the most terrifying parts for me... they started to spin th coracle for fun... I was like holding on to dear life... I am not the merry go round type anyways... never was and the water and the coracle made it like WHEEEEEEEEEEEEEE... and I was praying fervently while the others had fun !! we could see that many boatmen were having fun... what a way to get a thrill to go circles in rapids...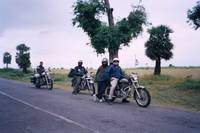 After the crossing we paid those guys some 150 per coracle and started for lunch... Lunch was a slow affair... fish fry was fast but the actual meal took a long time in coming. We almost lost our appetite and we had to get back to .. .
After lunch... we sped our way climbing the ghats and then the weather was pleasant.. the rains had stopped and the roads were also familiar now... we did not have to stop for many breaks and were back in Bangalore by 8:00 ...
It was a great way to spend a day ...
Short Impressions...
Bikes need a mud flap specially if it is raining otherwise it is painful for the rider
Pillion riding is not all that easy like it is made out to be..
Rain gear is a definite must for rain rides...