Route Taken
Bangalore - Hoskote - Kolar- Mulbagal-Palmaner- Chittoor - Ranipettai- Kanchipuram - Chengalpattu - Mahabalipuram

This has been a year of continous rains in Bangalore and mostly all over India... so traveling in bikes was not the first option. Just when we thought that it was getting dry and planned the trip to Mahabalipuram, we got news that the East coast was having good rains.. This was going to be our first solo ride and we were looking forward to it.
But we decided we would brave it out anyways. Unless it was one of those heavy coastal showers which we encountered in our trip to Calicut, it would be fine. We were warned by Daniel aka Dodo to be prepared for rains...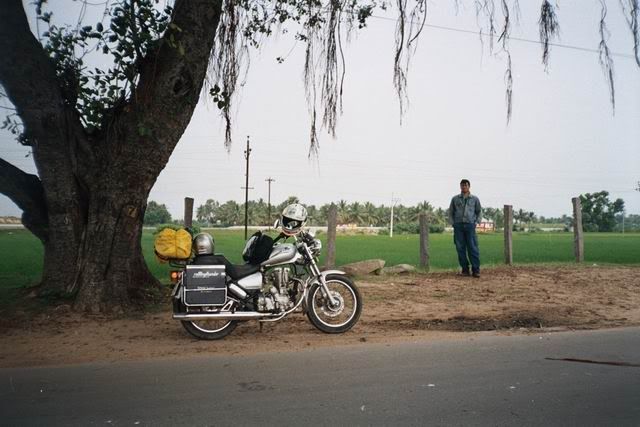 Anyway we started off early Friday morning heading towards the east... and going past Bangalore and Hoskote, we quickly passed Kolar and reached Mulbagal. We bypassed two three good hotels.. and I thought that we would get to pass by more and continued.. And to our dismay, we could not find any good hotels beyong Woody's.
We stopped by a nice little inn which said Hotel and thought we would get some coffee in our stomachs at least. As soon as I went inside I was welcomed with a big mug and directions to go to the ladies toilet. I did not know whether to laugh or just stare. Before I could finish my question about coffee, he insisted that I go to the toilet. Again I asked patiently.. and he ultimately said no coffee was not avialable but yes toilets were... hahah !! and we were charged
some 5 rupees to use the dilapidated toilets...
Since it was festival time, we had minimum traffic... on the way and reached Kanchipiuram without any difficulty. While riding on the State highway, we received some sporadic showers. It so happened that whenever we stopped and wore the raincoat, the rain cloud would pass by leaving us high and dry. We got so tired of wearing and taking off our raincoat, that we finally decided that we would brave the showers as and when they came. Well it was a good decision since the shower was light and would dry up after a few seconds.
Kanchipuram is a beatiful old city and it was here that we had lunch. Kanchipuram is known for its temples and we reached just in time for lunch. We had sumptous lunch in Kanchi at Saravana Hotel which serves amazing vegeterian thallis. They have good parking space for the bikes too.
As we moved around in Kanchi we could see that this city had a lot of temple heritage and it was scattered with temples at almost every corner of the street. Old Architecture.. and tanks which must definitely be a historian's delight. After lunch we continued on the highyway to Chengalpettu.. and then Mahabalipuram. After a short while we reached Mahabalipuram or Mammalapuram. Entering this small town it felt good to reach the destination.
As we entered this town it reminded me of
Hampi
and
Goa
. Hampi for the ruins and Goa for the tourists coming in inspite of the off season time. We looked out for a hotel sine we wanted to rest our backs and start exploring. It was 2:45 and we were ready to check out the town. Our search for an economic hotel near the beach took us through the concrete paved "gallis" to the fisherman's village near the shore temple. Rock s was more persistent in finding a hotel
near the beach..
We got a good deal for 300/- and the room was basic and was good enough with water running and good double bed.
The name of the hotel is
Sea Shore
hotel I think. Its a house with room facilities with an attached restaurant.My first thought was FISH FRY and BEER but I was patient. I had read that fish was really cheap here and I was keen on having my fill of fish...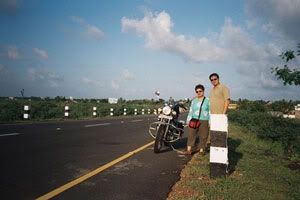 After refreshing we started off on the ECR to check the town and went and visited Krishna's Butterball, Arjuna's Penance and some other cave temples. We wanted to go visit the Lighthouse but visitors were not allowed so we gave up and made our way towards the Shore temple. We walked through the rows of shops sporting only scultures
and the sound of hammer hitting the stone was constant and it seemed like it was part of nature.. Friends if you are interested in sculpting this is the place to come to. The displays of the sculptures were awesome. ( click on the pics to view the larger versions)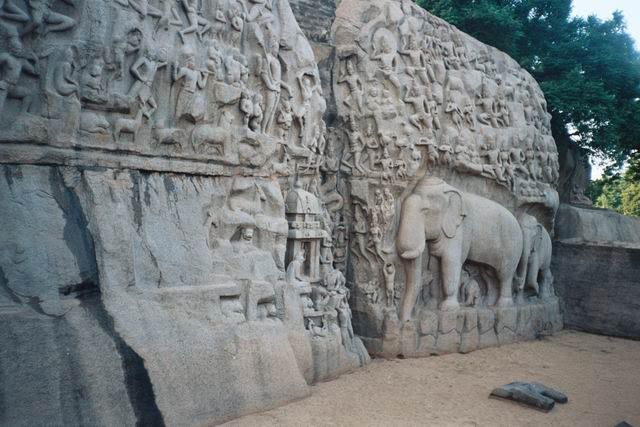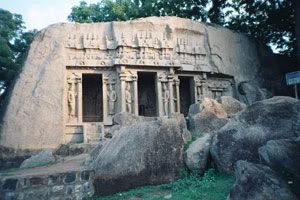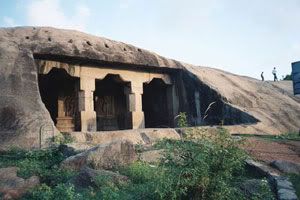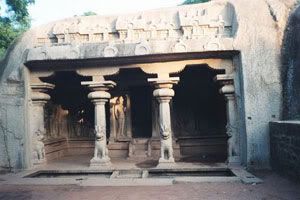 I wanted to click some good snaps but since it was already past sunset it did not make much sense to go to the temple. We walked around the beach area and as we were taking a walk, we came across a snake charmer speaking excellent American English ( reminded me of the hawkers in goa). Now this was an interesting sight. I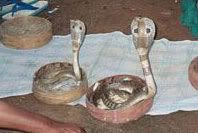 stopped and watched what that guy was doing. He took out one snake and then the other and showed us some tricks.. I was fascinated by the snakes... one cobra and one young snake... the poor cobra was awakened by a pinch on its tail.. poor thing... but it was showtime for them folks.. the charmer...made them turn a 360 degrees for a better close up and he said that he would charge 50/- for the snaps...When I told him that I was not a foreigner, he sobered down and asked me to give him whatever money I could... well who was I spoil his show and he had put up a good one so I gave him 50/-. A good performance has to be appreciated.
What I could see that they were making lot of money from the non Indians. The streets were scattered with shops specially catering to the people coming from outside India. In some of the places we wanted to eat, the guys blankly said that the restaurant did not have variety... and the moment a foreigner landed up they bend their backs to fulfil the orders... discrimination in our own land... SIGH !!
We went back to the hotel and s at down to have something to eat. Here I was expecting good meals... but I was mildly shocked to see the prices in the menu. Fresh Catch was displayed but a small fish would cost you 150/- and above. And a small piece would cost you 80/- to 90/-. Though it was not like Goan Beach shacks where Fish curry and rice cost us some 220/- and the same thing away from beach cost us 22/-, it was still not very reasonable price for fish which was freely available ... from the sea. I was thinking to myself that fish was cheaper in Bangalore.
Now in these restaurants, you cannot expect immediate service since the food is freshly prepared and is served hot at your table. Nothing is kept ready. This is not a fancy hotel but a hotel made from home so service is also slow. This is a place to just chill out. So patience is required, unlike a couple who came here to eat and made a big scene of telling the waiter to get what was ready immediately and thus resulting in confusion and as if this was not enough, the wanted veg dishes to be made... in a hard core non veg fish serving restaurant. Well to serve them right, they had their dished served very late... and by this time the husband was almost entering the kitchen and doing an audit. This provided good entertainment for the rest of the people who were enjoying the food.
I could also see a lot of Kashmiris who have made this town a good centre of business and they were minting money with their stuff... Went to a handsome fella's shop and browsed through this silver jewellery and other stuff. His
jewellery was awesome and I could not resist buying some. If you pass by this place, be sure to have a looksy at these stores...
We turned in early since we were kind of tired and the last thing I remember was the sound of the sea lulling me to sleep....
Day 2 In Chennai
Day 3 .. Back To Bangalore !!