Day3
Morning dawned with good sunshine and it was a great time to take off. We decided that we would visit the Tungabhadra Dam on the way. So off we went while the bikers were still getting ready. Heinrich, Indira and Jangs also took off early. While Jangs and his group took off straight we went to the dam walked up the hill and enjoyed the beautiful old construction of the dam.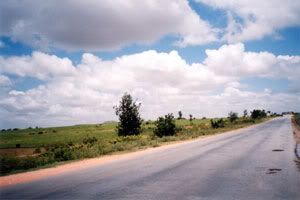 After that we were on our way.. cruising through the way .. we had Jangs and his group for company. Our Jeep was loaded with the saddle bags of the bulleters ... but it was less this time... since they were taking off late...
We ripped across the highway. Jangs and the group were obviously faster. We came across many overturned trucks on the highway. It was a pathetic sight. But we carried on.. Reached the outskirts of Chittradurg and stopped at a ncie house like hotel by the highway.. which had a garden restaurant and everything... and we ordered our meals.. Lunch was good but it made us have a big hole in our pocket. We were slammed with a bill of 700 plus for 3 fish thali meals, one vegeterian meal and a starter. When we asked for the menu the manager refused to show us the menu saying that it was outside the menu and they had extra charge... and all that.. and to top it all they were mixing the orders from one table to another..
This was the same with Jangs and his group and after warning the bikers, we took off. It was a bad experience and we learnt a valuable lesson...
If you are lunching in Chitradurg, please do not forget to ask the price of the orders that come to you..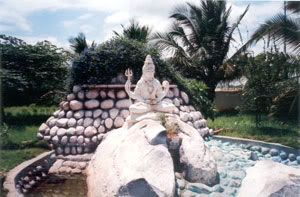 Funnily the food on the whole trip did not cost us that much as we paid for that one lunch fiasco... Still gets my goat whenever I think of it ... One the way we filled gas at a bunk which had this nicely carved statue..
Anyways, back on the highway, we came across heavy showers of rains which kept us company for a long time till we reached Bangalore... and finally we reached home replete with good memories of Hampi.
Hampi is a photographers paradise for both amatuer and professional. Make sure you take enough rolls with you if you are like taking pictures !!
Some important information about Hampi.
Map to Hampi
Map to go about in Hampi
.. Actually its easy to go about in Hampi. You will get local maps and local guide books and the sign posts are vey user friendly to follow.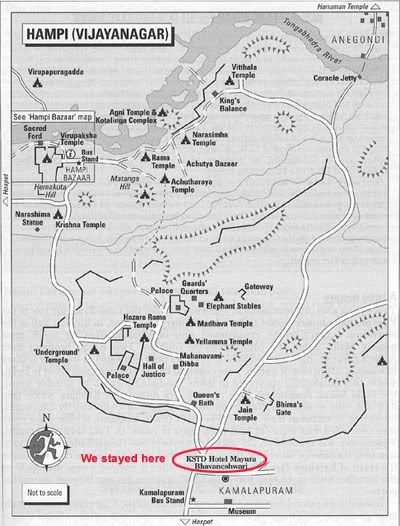 When to Visit
The ideal time to visit Hampi, is from October to March.
How To Get There
By Air
: The nearest airport is Bellary (74 km). Other convenient airports are Belgaum (190 km) and Bangalore (353 km).
By Rail
: Hospet (13 km) is the nearest railhead. Hospet is linked by rail with Bangalore, Bijapur and Hubli.
By Road
: Hampi is 353 km from Bangalore, and 13 km from Hospet. Buses ply regularly to Hospet from Bangalore.
Where To Stay
Hotel Mayura Vijayanagar, Thungabadhra Dam Hospet, Tel:08394-48270
Hotel Priyadarshini, Station Road, Hospet, Tel: 08394-48838.
Hotel Malligi, Hospet-Bellary road.
Hotel Mayura Bhuvaneswri, Kamalapur, Hampi. Tel:08394-51374 ( we stayed here... and we recommend this highly)
KSTDC Cottages.
Tel:08394-8108
Useful Links

http://www.meadev.nic.in/tourism/exotic/hampi.htm
http://www.indiatravelog.com/factfile/kar6-hampi.html
http://www.karnataka.com/tourism/hampi/