Day 2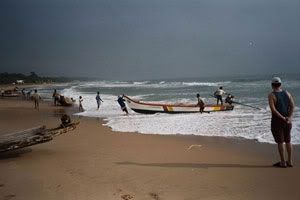 We woke up to mild rains and it was a beautiful weather. The sun was playing hide and seek with the rain and it was fun to watch who would last the longest.. and the effect of the sun and the rain coming and going over the sea through the clouds was amazing. I was wishing I had a better camera to capture that moment. But maybe some other time..
We saw that the beach was busy with the fisherman hauling in their catch for the day. Velu one of the fisherman with whom we got talking to.. told us that they leave for their fishing at 3:00 in the morning... and how they had to go further and further away into the sea to catch big fish. They were all a friendly group.. some folding nets, some running to get the fishes in place, some sorting out the fishes, some running to save themselves from the drizzle when it rained. Fishermen here believed in not only co- existing with the fishes but also with other domesticated animals and a good house would have dogs, cows, chicken and pigs with them.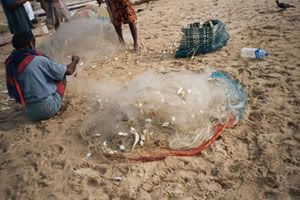 Velu promised us to take us to the sea for 200/- and show us the five temple which have are under sea. We did not take the risk since it was a wild time for the sea but we told him that we would come back and take him up on his offer. You can also go fishing with them for a small amount if you are interested.
It was all good since we spend a lazy morning... walking by the beach. We had a hearty breakfast at a nearby restaurant... shared with a black puppy and watched the rain fall ...by the sea.. As soon as it was dry, we left for the shore temple which would be opening in at 9:00. The shore temple displays 6th century architecture. The temples seem to have been built on single stones sometimes... the sculpturers starting their work from top so that they dont do much damage to the structure...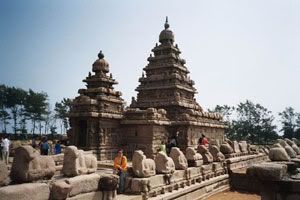 After the Shore temple we moved out of Mahabalipuram and towards the Croc park. We were riding through the ECR. It was a great ride. We met some good sports bike too who were freaking out with their bikes totally opened up. We missed out on the Tiger's cave while coming. The crocodile park has been an experience. I have never seen so many crocodiles at one time .. sheesh !!! it was like that place was infested with them reptiles and well though I dont hate reptiles.. I dont love them either... I have a healthy respect for them...
We could see snakes and turtles besides crocs... I personally think that this place should seriously try and find a wider space.. or let the crocs go to the wild.. its too much now... BRRRR !!!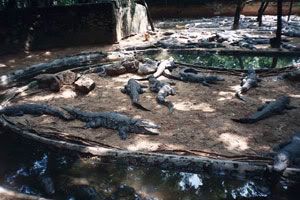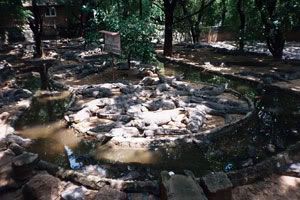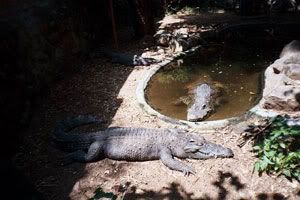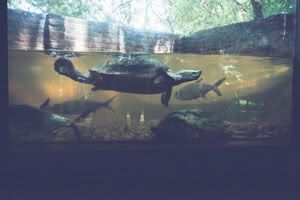 Then we entered the town of Kovalam which was nothing great so we moved on. On the way we saw another rider in a bullet most probably from the Madras bulls... did not know him but it was good to see another bull on the road.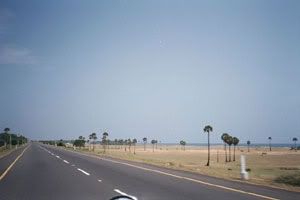 In Chennai we were met by Daniel aka Dodo who took us to his house and from then on we went on to the Royal Enfield factory. Dodo also did not know the way to Thiruvattyur... where the factory was. So we went on riding through one of the worst parts of Chennai, a la Majestic in Bangalore.. just add to that less space more trucks and filthy because of the rain....
On reaching the factory we were made to wait dfor sometime before Ajay Pai came and took us around the place. he explained to us how the place worked and how the machines worked and it was very enlightening for us. We then got to meet Mr Vaiydi, Director, Marketing, if I am not mistaken along with Naveen Malhotra. We had a very nice converstaion where feedback was exchanged and we learnt a lot too. I was more interested in the bullet coming up with an electric start. I would then be able to get myself one.... I am secretly hoping that I dont have to kick start the machine when I buy one.
After the visit we went to Ponnuswamy's and had a very late lunch... If you are in Chennai, you have to visit this place. For food lovers this is the best Chettinadu Cuisine house that you can get at a very good price. Its is Eggmore. We went on to meet some of the Madras Bulls gang. It was nice of them to catch up with us. We met at Cake Walk by the beach. Bala and Kavita, Dosai(Manoj), Anthony, Jai, Brijesh, Shwetha and her sister were all there... it was great to hog on good desserts and have a nice get together... that continued in Dodo's house where Bala regaled us with body shopping stories from US and his wild life adventures in Kenya. I think I shall plan a trip to this place... his stories have totally fascinated me..he is another avid traveller and its always nice to exchange stories... with such minds...
I crashed off while the men hung around late.