Day 1 ... 10th September, 2004
It was a Friday that I was looking forward to... I have been wanting to visit Hampi and dreaming about it from the moment that we decided that we would be going riding to Hampi.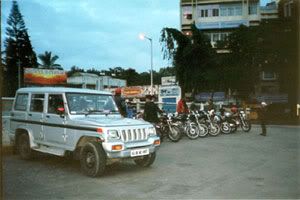 Started early in the morning along with the Bullets. We decided to take our Jeep since we had friends with their 2 year old, visiting us and we wanted to share the fun of motorcycle riding with them. The Jeep became a storage section for the saddle bags.
Hitting the Tumkur highway close to 7:30, we carried on and decided to take a break near the toll gates. After sometime we hear that Vikas one of the riders has had an accident while avoiding a stray dog.
And well luckily he escaped with nothing but a few scrathes and a broken light bulb.He was pretty sporting about it. Reminded me of Bumboo and our Wayanad trip when he attracted all animals to hit him.. we called it animal magnetism...
On the way Sagarika who was riding for the first time had a tough time hanging on .. without a back support and a tiny seat... for the pillion. She opted to come in the jeep.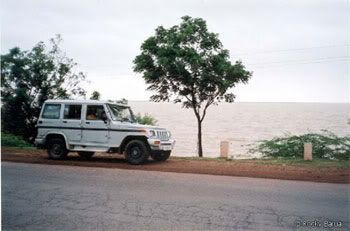 Anyways, carrying on towards Tumkur, we had breakfast of soft Thatte Idlis and Vadas and hot coffee in our usual place in Catsandra...which left us feeling refreshed and rejuvenated. Continuing along the road which was pretty good and had few bumps... the scenery that opened itself before us was spectacular to say the least. The whole landscape which is usually dry... was lit up with a carpet of green grasses and yellow sunflowers... it was a beautiful feeling to drive along the highway...
Passing by Mangalore Highway, we took a version to Kudiligi, and then on to Hospet. Took lot of breaks of hot tea and then finally reached Kamalapuram, Hampi where we rested ourselves at Hotel Mayura. I highly recommend this hotel. You can book in advance and you can also go and get a room during off season..
Rates start from 400 to some 1000/- and the facilities are very useful. They have a good canteen which also caters their version of European food along with South Indian Thalis, veg and non veg. Rooms are clean and water is also good.If you want to destress yourself you could also go in for the ayurvedic massages which the hotel provides... ( they might make a tiny hole in your pocket, but it is worth it.) The hotel itself is situated among huge land area which has a long driveway and lots of green grasses growing.. or maybe it was because it was monsoon time.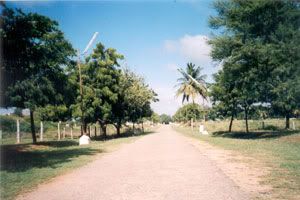 This picture is just the driveway to this hotel... If this is off season for Hampi, I tell everybody to go and visit the place only at this time. You can benefit from the greenery and also from the cool breeze blowing which according to the natives is a rarity since temperature rises up to 44 degrees C.
Had a decent meal and lazed around in the evening with the kid, and with friends.. You could hear crickets "cricking" away along with frogs coming out of their hideouts... and jumping here and there.. the hotel sports a small tank of fish and two tortoises too which was good entertainment for the kid.
Weather was just perfect and we were ready to face the next day... we fell asleep to the anticipation of what we would visit the next day...
Day 2
Day 3