Day 2
Morning dawned with the realisation that the day was getting to be very hot. We freshened up as the rest were still dozing. A couple of us who were up and about decided to go get some breakfast. We had not arranged with the resort to provide us with food. We found a joint very near the resort and had some tea and biscuits and some nice discussion with the Madras Bulls guys... Some of the madras bulls had already left Pondi in the night.
I guess it was a good ride to and back since it was not too far from Chennai. Since most of the guys were still sleeping when we were back, we decided to strike out to by ourselves to the town. We would not be coming back this side so we said our good byes to the Madras Bulls, Dodo, Brijesh, and all of them who were so cool to sponsor this stay in Pondi. We said our goodbyes to the rest of the guys and left for the main town. The sun was already beating down pretty harshly and it was not even 9:00 am.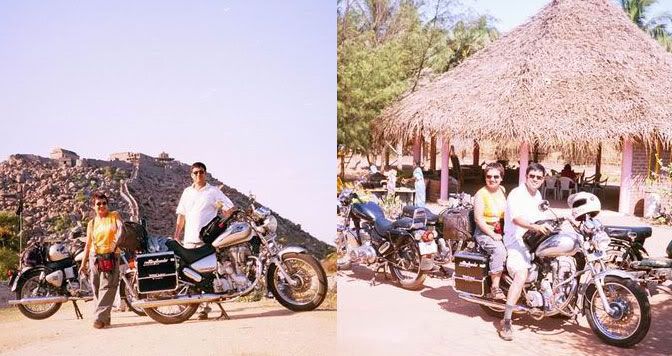 We were familiar with the town so wanted to just "surf" the town, lets say !! We went down to the Beach Road where we had breakfast by the beach cafe and chilled out by the sea and then decided to cruise around the colonial area of Pondicherry and in that process did some shopping...
There is a good market for handmade goods which are pretty cheap and useful ... which become painfully expensive the moment they reach Bangalore...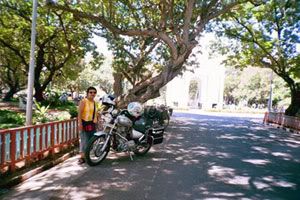 Do not forget to rest a while by the shades of the big trees in the park near the Beach Raod. We relaxed for sometime there. of all places this is my favourite place to be in Pondicherry.. by the beach road in the evenings and walking through the park in the daytime.. the wonder of it was that while it was burning hot in the sun... the moment you stood under the trees, it was like you had reached natural airconditioning zone.
I have not experienced this difference in temperature in bangalore when in the shade....that makes you appreciate the summer all the more... Since it was a Sunday many had come down to spend the day in the park and all the sitting areas were full of kids and families just enjoying their Sunday... once side I could see two sisters playing hide and seek, on the other hand I could see a group of elderly people playing cards... and then some women sitting in a circle talking... I guess they were taking stock of the week's work ha ha !!
But this moment, seeing everybody busy being happy in their own relaxing without the hurrying made me appreciate the quality of life there... Yes I would like to do that someday .. live in that area and go to the ashram, sit by the sea or the park and then just reflect... and then go back... maybe to Auroville... ah yes time to reflect...
By this time we were having tiny hunger pangs and then mulled over where to go for lunch.. Of all the places Rendezvos was the nearest and the best. So decided to head there... I have become a die hard fan of this place by the way... LOL. By this time the rest of the group also flocked in. Praveen, Mahindra and JFK. Tiwana had decided to go via Chennai. Keerthi and Soup decided to stay back for one more day and enjoy the place...
We had another amazing lunch here and then headed out to the highway by 3:00 after the guys did some shopping for themselves... courtesy yours truly... I was the only woman in the group and urged them that if they did not take home such nice gifts for their family it would be a sin... hahaha !!!
Anyways, on and on we went. We had to reduce speed since Praveen and JFK's bikes were running in so we kept a steady but medium speed. We stopped after every hour or so and then carried on..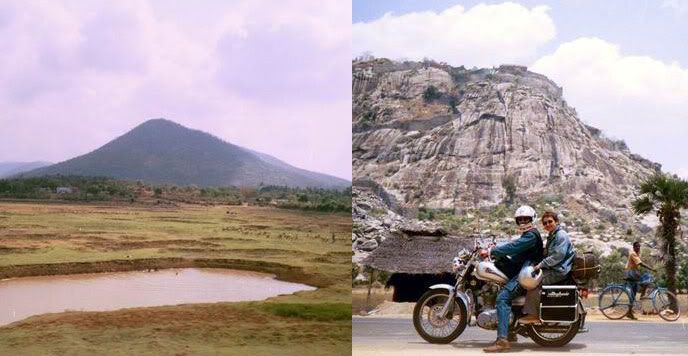 On reaching Gingee, we stopped again for some photographs... JFK did some cool and freaky posing ... and I obliged him by capturing the Alpha male moments .. with a profile and then both the man and the profile... and he was mighty thrilled with the portraits... of him and his new baby... ( he had just bought the STD 500 you see and had got it with him to Pondi for a spin) and you thought that women were narcissistic... LOLOL !!
Reached TV Malai at dusk and had some snacks at one of the hotels...
My ordeal started when it was dark.. firstly I could not see anything but the stars and then I was so inspired by the feeling of riding under the starry sky that I thought out a poem... well a sham of a poem which went like
Under the starry sky as we ride
without a care or a sigh
the cresent moon is shining shy
watching us head home cocooned in its soft light....
Well guys that was one of the rarest occasions when I could come out with something resembling a poem... I was feeling raelly romantic riding through the wilderness with only the mountains and the stars as witnessess... its a heady feeling...
Mahendra ( I just got that his name was Mahendra and not Mahindra ... sorry about that Mahendra !!! ) was riding pillion with JFK since he had packed his bike to bangalore. He then took turns in riding Praveen's and JFK's bike.
Now this guy had the tenacity not to doze off while riding. And I was amazed at that...since he said that no matter what he could never sleep while riding. JFK who was by this time very tired and sleepy just wanted to reach home. He also gave the bike up to Mahindra while he dozed as pillion.
Mahendra then started to play with him ... just when JFK would go off to sleep he would accelarate and JFK would hit his helmet ..* tak* on Mahendra's and wake up.. Mahendra continued this till JFK came up with a defense policy even in his sleep LOL... mahendra gleefully recounted the phase when we were taking a break... haha to the utmost consternation of JFK.
Now where yours truly was concerned, she was fighting a losing battle with the sandman and was trying her level best to keep her eyes wide open...but it was a constant struggle...
The whole time I would try to concentrate on the inky blackness and *tap* I would go off to sleep. And I was also * tak taking Rocks helmet with mine.. Once I almost
Believe you me !!!! Its no fun sitting pillion at night and the road being so smooth...
My endless struggle with my sandman and my dream catcher was making Rocks very edgy and he was shit scared that I would fall off and I was trying my best not to fall off.. Little did he know how I was trying to battle the onslaught of sleep...even though every time we would stop and I would wash my eyes with precious water.... nothing was working
Beat this... you are travelling on a smooth straight road in the inky darkness and the speed is some 50 to 60 kmph and add to it the constant thump of the machine...and cool breeze swhishing by..... even a crazed incomniac would have fallen asleep. And I am a person who appreciates sleep so it was touch and ZZZZzzzzzzzZZZZZz for me !!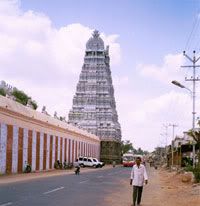 Anyway this time luck was on our side so we reached the end of the Tamarind Highway pretty fast. Here we took a break and the night and the hour inspired us to think about ghost stories.. JFK told us an almost-ghost story... well my imagination was fired up anyway.. so Mahendra ( the great strory teller ) tempted us with a tantalising ghost story which we were eager to listen .. we breaked for tea somewhere insignificant near the highway and Mahendra started his storytelling which turned out to be a welcome break from the sleepy ride and had us splitting in laughter.... By now I was wide awake... and we had reached the outskirts of Bangalore... soon after we reached home feeling fulfilled and exhausted... yet another journey finished and yet another day ends.... but with warm memories of percolating Pondicherry.....