Day 1, Arpril 24th 04
This trip write up was long due and was thinking when I would have the time to put it up .. anyway... this trip was being planned for a long time and we had just done our Coorg trip. We were thinking of giving it a miss. The trip was about Madras Bulls celebrating their annversary and they had invited us for a ride to Pondicherry. It would also be a ride when we would be also remembering Varun, our dear departed friend.
We were eager to make it but then decided against it. I think both our consciences were not agreeing to that. So after a late party at a friend's place we decided inpromtu that no matter what we would make it and it was about 12:30 in the night and we had not done any packing.. so after rushing in with the packing we crashed at almost 2:00 and after 2 hours of sleep we were up and about putting the stuff in our bikes and off we went to meet the other bikers..
Mahindra
Tiwana
Sijan ( JFK)
JFK had brought in his bike with a towing rope fixed on his handle. I teased him about it and he was telling me that it was style... and later on this rope was the one which saved our day.. Kudos to JFK's sense of bike fashion.
In the meantime some of the riders had already gone ahead the previous day to Chennai and they would reach Pondicherry by the same day from Chennai.
We met up with the bikers at the Hosur flyover and continued on to Krishnagiri where had a cup of tea and continued on our way.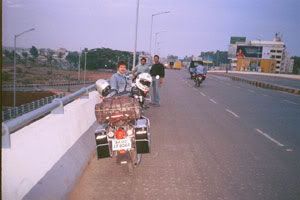 After a while, we took a left deviation to the road which connected to the highway leading us to Pondicherry. This is the best road to ride while riding from Bangalore to Pondicherry. This road is trimmed with tamarind trees on both sides and its a ride worth the while if you just want to cruise. On the other hand it could get somewhat boring.. for the rider and one had the risk of falling asleep if one was not used to riding long roads...
It was almost noon and we were tremendously hungry. I had got some sweets from home and some oranges. We munched on that. This highway is devoid of any dhabas. We were hoping to make good time and then have some breakfast somewhere but there was no scope of that. We were kind of getting real hungry.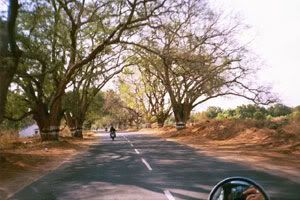 Finally we spotted a small town where we had some dosas and then continued down the highway. The weather was getting warm but as long as we were on the road it was pretty cool . We took short stops and relaxed our behinds beneath Tamarind tree shades.
The highway is a cool one without the disturbing onslaughts of truck and bus drivers. Nice scenic view.. a little too nice for my tastes... a ride is not a ride without winding roads and some rough roads... :)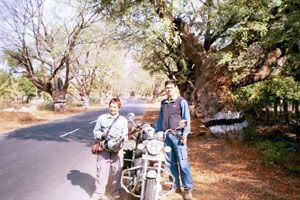 We went through Tiruvanamalai. TV Malai was a crowded town but moving traffic. This place is known for its temples and we crossed quite a few of them. Nestled at the foot of the mountains, this place was a buzz of activity and very soon we left the town behind. Then it was about 3:00 and we entered Gingee. This appreared to be a historical place with Rajgiri and krishnagiri fort on both sides.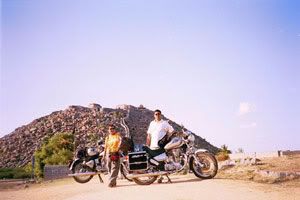 It was a majestic climb and I could imagine how it was to have lived in those forts with a spectacular view of the state. We promised ourselves that we could explore the fort some other time but now our main objective was to reach Pondicherry which was hardly some 50 odd kilometres away.
Hardly had we ridden 20 kms, we saw Mahindra stopping by the side of the road. He was telling us that he was having engine problems. We could not figure out the problem since it was inside the engine and no one was stupid enough to open the engine in the middle of the highway. So I just prayed that somehow that baby would run.. We were just 40 kms from Pondicherry. We decided to let the engine cool down a bit and then start again.. So mahindra would ride some 2 to 3 kms and then it would stop... and doing this we were losing time and Mahindra was also getting pissed off. All of us tried to cheer him up... He is a guy who can make your journey very interesting. He has so many stories to tell. He was quiet and brooding since his baby was not functioning well.
Finally 20 kms away from Pondicherry, JFK decided that he would tow the bike. His stylish towing rope then came into use... the same rope about which we were teasing him. Mahindra was in two minds. Since he was not used to being towed, he did not take to the idea very well. But we including mahindra thought that he could give it a try. We were nearing the town now and it would be getting dark in few hours... so mahindra's bike was tied to JFK's bike and he led him. In the beginning it was like dicey with Mahindra getting pulled and trying to keep balance without his engine working .. Tiwana and our bike kept a close distance. After sometime both of them got used to the towing and they were moving quite fast, to the extent that they manged to overtake a bus in the town... and we were like GAWK with our mouth open.... and just hoping that both of them would make it..and they did quite triumphantly .. haha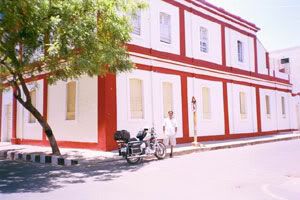 The public in Pondi was looking at us wierdly.. imagine... us in the lead and then the two of them in the midle and Tiwana at the rear. That being the situation it did not stop the public from butting in trying to cross between the bikes despite the road but we reached the destination after sometime..Eden resorts ..where we were wecomed warmly by the Brijesh and Harish and others from the Madras Bulls. While Mahindra and JFK went to fix the bike we went ahead to have some foodsince we were starving and I had heard so much about Rendezvous that we decided to try our luck there... Rocks was by this time almost dying of hunger and so was I . Among the three of us , Tiwana, Rocks and Myself, we polished off I Omlette, Shrimp Cocktail, a plate of big chicken sausages, a plate of fish fingers, a plate of mixed grill steak, a plate of hamburger, Butter Chicken and Roti and two scoops of Icecream and the quantity was huge...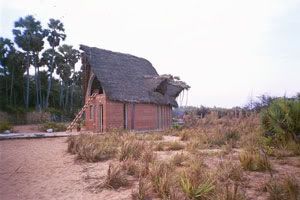 After hogging like pigs we went back and could not find the rest of the crowd. Seems that they had gone for dinner and would be returning in sometime. There was some miscommunication and we missed meeting them on the way.. anyways we crashed off in our shacks while waiting for them.. the resort was just next to the sea and our tired senses were lulled to the land of our dreams. As I was closing my eyes I could see the velvety sky of stars slowly fading.
Suddenly after midnight we get up to murmur of voices. It was a little after 12:00 and the crowd had returned. Part of the gang with Tiwana, Mahindra, Dodo, Solomon, JFK, us, Praveen, KJ and a cuople of others sat around a circle with the background of sea waves talked and talked... as usual we exchanged stories. We were too touchy to talk about Varun but we remembered him every moment and we knew he would have been there in spirit with us. Mahindra entertained us with stories of how it was like riding in Leh and Solo and Dodo ( Daniel) entertained us with their own stories. Solo is the only member of Madras Bulls who rode with 60 kph which was another bullet club and they have ridden to many a places. Dodo was telling us about his plans to do Kashmir to Kanyakumari. Solo was one of the members who had gone to the Pakistan peace ride from Chennai. Dodo never got enough of teasing Solo about his fascination with Fair and Lovely. LOLOL . It was pretty funny And with that note we all crashed off... I was thinking that though this was the most impulsive ride we had done.. it was worth it.. meeting everyone and how the Madras Bulls had arranged such a nice place for us...